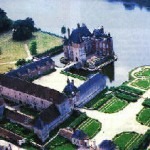 The castle of Bussiere, nicknamed the Fishermen castle , built on stilts on a lake of 16 hectares, surrounded by a park designed by Le Nôtre, contains a collection on freshwater fishing. 10 furnished rooms, including lingerie and exceptional cuisine in the vaulted basement.
The garden of 18 ° is worth visiting. Each season will show new colors and delicious flavors. Watch and learn the correct methods of gardening naturally.
For children: picking of red fruits, fresh vegetables. Picnic in the park. Golf scents in the garden, henhouse. Games in the huts and giant wooden games.
45230 La Bussière, 02 38 35 93 35