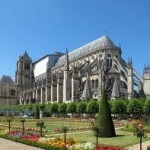 [google-translator]
Masterpiece of Gothic art, Saint-Etienne  Cathedral of Bourges is unique in its architectural design. Declared World Heritage by UNESCO, the cathedral is the most amazing building that marks the birth of the classic Gothic art.
One of the finest civic buildings from the Middle Ages endowed with great modernity. From 1443 to 1451, Jacques Heart, Silversmith of King Charles VII, built in Bourges, his hometown, a revolutionary palace with an unrivaled comfort …
135

hectares

of

gardens

surrounded by

rivers and canals

downtown

!
And
to relax,
the
jardin de l'Archevêché
,
work of

a student

of mr.

Le Notre

:

flowerbeds

in square

and

woodlands.
During the summer, Bourges night tour by following "luxioles" lights  on the sidewalks, all the medieval city in sounds and lights : beautiful and romantic! Nuits lumières de Bourges…