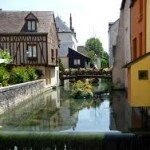 Former sub-prefecture of Loiret, this small city the nickname "Venice of Gatinais", walks along the canal of Briare perspective.
You can also visit:
 Musée des Tanneurs : waterfront, this beautiful half-timbered 16th century breathes the atmosphere of old tanneries, very important in this part of town. Besides tools and various documents attesting to this activity, this small museum displays a collection of headdresses from the 19th, while retracing rural life Gatinaise (hemp clothing).
Rue du Château, Téléphone :02 38 98 57 64,
 musée Girodet : collection of paintings, currently closed for renovation.
2 Rue du Faubourg de la Chaussée, Téléphone : 02 38 98 07 81
5 mins from Montargis, at Amilly, visit :
Musée des Arts et Traditions du Gâtinais : Exposed in two restored barns, a rich collection of tools spans more than a century of agricultural labor and artisanal and industrial activity Gâtinais of drainage machinery, rubber to the fertilizers …
Domaine de la Pailleterie, 45200 Amilly, Tél : 02 38 85 33 16
or also 5 mn from Montargis,at Chalette :
Musée d'Ecole Fernand Boutet, for children : as if you were there: desks, blackboard, exercise books, books, awards, good points, blouses, dunce cap, to the famous feathers Sergeant Major! During the animation, you can participate in workshops tale, bending, drawing, poetry, singing, and even pen writing … A different today if school life …
1 Rue Gambetta, 45120 Châlette-sur-Loing, Téléphone :02 38 89 59 20,
Between Montargis and the Domaine on N.7 at "relais du miel" :