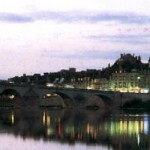 1st castle (at the east) on the road of  the Loire castles, built in the late 15th century by Anne de Beaujeu, daughter of Luis XI, on the site of a medieval fortress which had stayed Jeanne d 'arc. Its architecture is typical of the late Middle Ages early Renaissance. It houses the Museum of Hunting, Nature and Traditions since 1952: one of the finest collections of hunting arts (tapestries, paintings, bronzes, ceramics, weapons, buttons on hunting, etc …).
For children: Animated visits during school holidays.
Warning : Castle of Gien is closed for major renovations until the end of 2015.
http://www.loiret.com/chateau-de-gien-36679.htm
The actual bridge, built in 1734, replacing two other bridges washed by the Loire at 13 ° and 15 centuries. Several arches were destroyed in June 1940 to stop the German invasion. Nice walk over the river to admire the castle on the left bank.