Vivez la Loire avec Passion en Pays du Giennois. Aujourd'hui Gien.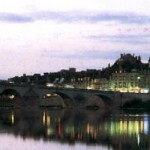 1st castle (at the east) on the road of  the Loire castles, built in the late 15th century by Anne de Beaujeu, daughter of Luis XI, on the site of a medieval fortress which had stayed Jeanne d 'arc. Its architecture is typical of the late Middle Ages early Renaissance. It houses the Museum of Hunting, Nature and Traditions since 1952: one of the finest collections of hunting arts (tapestries, paintings, bronzes, ceramics, weapons, buttons on hunting, etc …).
For children: Animated visits during school holidays.
Warning : Castle of Gien is closed for major renovations until the end of 2015.
http://www.loiret.com/chateau-de-gien-36679.htm
The actual bridge, built in 1734, replacing two other bridges washed by the Loire at 13 ° and 15 centuries. Several arches were destroyed in June 1940 to stop the German invasion. Nice walk over the river to admire the castle on the left bank.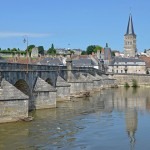 La Charité sur Loire, is today the "city of the book and the word" and organizes numerous events around the book market, fairs, prices awards and Night Book ! Many craftsmen (bookbinders, printers, publishers, writers, authors) staying there.
It is also an historic city : the stone bridge over the Loire is as old as that of Gien, vestige of walls, alleys and typical Faubourgs.
and monastic : Cluniac priory, Notre-Dame church  classified by UNESCO. It is also a stopover town on the Compostelle road, famous since the Middle Ages.